US set to ban TikTok and WeChat in 48 hours
BAN BAN:
• US set to ban TikTok and WeChat in 48 hours
TikTok and WeChat will be banned in the US from Sunday, unless President Trump agrees to a last-minute deal.
The Department of Commerce said on Friday it would issue an order barring US citizens from downloading messaging app WeChat or video-sharing app TikTok.
The order will ban the apps from being distributed through any app store on any platform.
The government is concerned the Chinese-owned apps could threaten national security.
If a partnership between Oracle and TikTok owner ByteDance is agreed – and approved by President Trump – the app would not be banned.
It is not yet clear whether Mr Trump will approve the deal, but he is expected to review it before the Sunday deadline.
The ban order from the Department of Commerce follows President Trump's executive orders signed in August.
In a statement, the US Department of Commerce Secretary Wilbur Ross said: "At the president's direction, we have taken significant action to combat China's malicious collection of American citizens' personal data."
The department acknowledged that the threats posed by WeChat and TikTok were not identical but said that each collected "vast swathes of data from users, including network activity, location data, and browsing and search histories".
ByteDance has denied that it holds any user data in China, saying it is stored in the US and in Singapore. Tencent, which owns WeChat, has said that messages on its app are private.
While TikTok has millions of users in the US, it is not clear how many of WeChat's billion users are based outside China, although it is likely to be a significant number.
IF 4G IS GOOD ENOUGH, WHY THE NEED FOR 5G?
IF 4G IS GOOD ENOUGH, WHY THE NEED FOR 5G?
( https://link.medium.com/lrxTUYitBab )
The 5G network prides itself around 3 use cases:
Enhanced mobile broadband (eMBB)
The demand for mobile broadband has been on an exponential rise, thanks to the increasing number of mobile devices. They connect to the fastest network around and are not conservative in subscribing to contents that require a large bandwidth like high definition video streaming, video instant messaging, teleconferencing etc.
Statista predicted that "by 2022, mobile data traffic is expected to reach 77.5 exabytes (10 to the power of 18) per month worldwide at a compound annual growth rate of 46 percent". This, in contrast to the 19.01 exabytes per month that the global mobile data traffic amounted to in 2018. You could tell by the bold presence of platforms like; Netflix, TikTok, Instagram, Zoom, YouTube and co, which all consume data and don't appear to be leaving anytime soon.
This rate of mobile broadband consumption continually lays demand on the network providers and they, as a result, strive to roll out the best of technologies for their customers in a bid to meet the demands of faster speed, larger bandwidth and reduced latency.
4G at its best could achieve a data rate of up to 300 Mb/s for downlink and 75 Mb/s for uplink- which is up to 500 times faster than 3G. 5G, however, was conceptualized to be as much as 100 times faster than 4G, with peak data rates of 20Gb/s for downlink and 10Gb/s for uplink. What does this mean in a practical term? It means it would take less than 10 seconds to download a 2-hour movie! And the latency, which is the time required for data to travel between two devices, is set to a maximum of 1ms as against 4G's 20ms. Lastly, the problem of congestion becomes solved as this generation of network is built to handle much more bandwidth compared to the previous generations.
Ultra-reliable and low latency communications (URLLC)
This specific use case makes provision for low latency and ultra-high reliability, which would be useful for mission-critical applications like remote surgery, autonomous driving, gaming, Augmented Reality (AR), Virtual Reality (VR), and smart gird etc. This use case also provides end-to-end security and reliability of 99.999%.
Massive machine type communications (mMTC)
mMTC is about the wireless connectivity of a large number of devices with a low data rate, a low power consumption leading to a long life battery life of possibly more than 10 years, low cost, and availability for quite a long time. Applications of these could be found in connected vehicles, smart metering, and smart cities.
How can all these be?
It is possible you are wondering how all these features could be combined and found in a singular network, right? Well, the design of 5G is that for each use case, specific key features that are unique and paramount to the use case would be more pronounced than the others. How do I mean?
For an eMBB use case, for instance, peak data rate, user experience data rate, support for mobility, spectrum efficiency, network energy efficiency and area traffic capacity are the most important key performances. They are, therefore, considered with utmost preference. This is not necessarily the case in the case of URLLC, where mobility and latency are the priorities. As a matter of fact, the data rate involved in such scenarios are low, in the measure of kbps, and the required latency is much higher than that of, say, mMTC.
How does 5G achieve all of these?
Larger Bandwidth
As a result of the increasing demands on data services by mobile users, as earlier mentioned, the existing bands of the radio-frequency spectrum being used have become more crowded. This consequently implies a slower service delivery and probably less satisfactory speed and connectivity.
Since one of the goals of 5G is to have an increased data rate, remember, 100 times faster than 4G, it behooves of the network providers to consider moving away from the familiar range of radio frequency spectrum to one that might not have been used yet for mobile services, as the former has been crammed. This is the motivation for deciding to employ the millimeter waves (mm-waves). They are referred to as millimeter waves because they have quite a short wavelength, in the range of 1 to 10 mm, and operate at high frequencies, in the range of 30 to 300 GHz.
These high frequencies mean that there is a larger available bandwidth. As beautiful as the proposal of the adoption of the mm-waves is, there seem to be some limiting factors. One is that millimeter waves cannot travel far because of their high frequencies. They are also easily absorbed by obstacles like walls and buildings and are therefore prone to being attenuated.
Does transmitting at high frequencies pose a risk to human health?
First and foremost, it is important to state that millimeter wave frequencies adopted for 5G are put in the category of non-ionizing radiation. This means that the energy of the smallest structure of these electromagnetic waves is not enough to stir the movement of electrons from their orbits. In a simpler term, non-ionizing radiation is not capable of producing the type of energy that could directly cause harms to cells or cause DNAs to break apart. The quantity of energy needed to remove an electron from its atom is around 12 eV while the highest photon energy emitted by a millimeter wave is 1.2 meV. This means for the mm-wave to be harmful, it would require 10,000 times more than the amount of energy it normally emits.
Having established that the mm-wave is categorized as non-ionizing radiation, it is, however, also important to mention that it has been discovered that it has the potential of causing heating to the objects it illuminates- but no worries. This is why there are governing bodies and regulations. They ensure that electromagnetic waves are transmitted at a power that limits their heating effects on the human bodies to become significantly less than 1°. Also for mm-wave, their short wavelength reduces how much they could penetrate, further reducing unintended harms.
Network Densification
One of the effects of moving to higher frequencies is that the attenuation increases. To make up for this, a concept called network densification is adopted.
Network densification involves the addition of smaller cells (a cell is an area served by a Base Station) to increase the capacity of the network. For 5G, the inter-site distance between each cell is about 100 to 200m. That means 5G antennas would be found very close to one another transmitting radio frequency signals at high frequencies, but with low power. With such proximity, the goals of the peak data rate would be a reality and the capabilities of the adopted high frequencies would be fully optimized.
Multiple Antennas
Another enabling factor for the high performances of the 5G network is a technology called Massive MIMO. Massive MIMO is an improvement of MIMO.
MIMO, which stands for Multiple Input Multiple Output, is a technique employed to maximize the capacity of a network through the use of multiple antennas at both the transmitter and receiver, running on the same frequencies and at the same time. With this arrangement, more than one data signal could be simultaneously sent and received over the same channel.
Massive MIMO describes the increase in the number of antennas with respect to the original MIMO system by an order of magnitude. This could range from tens to hundreds of antennas.
Coupled with massive MIMO is the use of another technique called beamforming. Beamforming is used on arrays of antenna for precise directivity. It allows for the focusing of the energy of the transmitted signal towards a specific receiver, rather than having it spread in every direction. This comes quite handy in 5G networks, where the frequency is high and is prone to attenuation, by enhancing the coverage of the network.
While massive MIMO improves the capacity of the network by leveraging the array of antenna combinations, beamforming makes each receiver appear like the only user benefiting from the massive array of antennas.
Network Slicing
Network slicing is a concept which describes the virtualized division of single physical network infrastructure into independent logical networks. It enables specific functionalities unique to particular use cases to be implemented. Each logical compartment or slice is an isolated end-to-end network on its own and is uniquely enabled to meet specific demands as required by the use case.
Mobile Network Operators adopt technological concepts like Software Defined Networking (SDN), Network Functions Virtualization (NFV), orchestration, and automation to achieve this abstracted slicing of the network infrastructure, thereby providing portions of their networks for specific use cases, instead of an invariant approach adopted in the earlier generations of the mobile network.
In Conclusion
Although it might take a while, from now, before all of these design specifications could be met, but I can assure you, by the time it is all ready, 5G would not only change the way communication is done, it would also change the way we view the world.
Thank you!
© Akintomiwa Opoola
President Buhari transfers NIMC to communication ministry
President Muhammadu Buhari has Approved the transfer of the the National Identity Management Commission, NIMC to the Ministry of Communication and Digital Economy.
In a statement by the spokesperson to The Minister of Communication and Digital Economy, Mrs Uwa Suleiman said the move is in an effort to ensure that synergy and effective ministry supervisory mechanism is put in place to coordinate, monitor and track the progress of Federal Government's digital transformation initiatives.
The statement also says the approval for the transfer was based on Mr President's consideration for the critical role of NIMC towards the realisation of the objectives of the National Digital Economy Policy and Strategy for a Digital Nigeria (NDEPS).
The statement says the approval is hinged on the President's confidence in the Ministry under the leadership of Dr Isa Pantami within his first year in office.
NIMC which is mandated to create, manage, maintain and operate the National Identity Database established by the NIMC Act, 2007 has so far registered around 41 million eligible enrollees for the National Identity Number (NIN) while the Nigerian Communications Commission (NCC) on the other hand has details of over 191 million mobile subscribers.
Olayemi Daniyan
Thousands of Chinese smartphones with built-in malware sold in Africa
Malware which signed users up to subscription services without their permission has been found on thousands of mobiles sold in Africa.
Anti-fraud firm Upstream found the malicious code on 53,000 Tecno handsets, sold in Ethiopia, Cameroon, Egypt, Ghana and South Africa.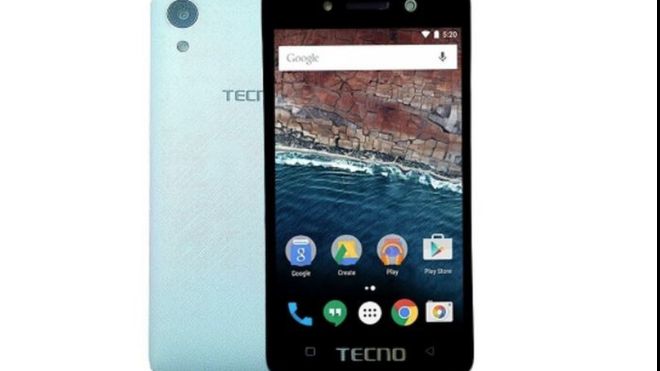 Manufacturer Transsion told Buzzfeed it was installed in the supply chain without its knowledge.
Upstream said it was taking advantage of the "most vulnerable".
"The fact that the malware arrives pre-installed on handsets that are bought in their millions by typically low-income households tells you everything you need to know about what the industry is currently up against," said Geoffrey Cleaves, head of Upstream's Secure-D platform.
The Triada malware found by the firm on the Android smartphones installs malicious code known as xHelper which then finds subscription services and submits fraudulent requests on behalf of users, doing so invisibly and without the user's knowledge.
If the request is successful, it consumespre-paid airtime, the only way to pay for digital services in many developing countries.
In total, Upstream found what it described as "suspicious activity" on more than 200,000 Tecno smartphones.
According to research firm IDC, Transsion Holdings is one of China's leading phone manufacturers and in Africa it is the top-selling mobile manufacturer.
In response Tecno Mobile said that the issue was "an old and solved mobile security issue globally" to which it issued a fix in March 2018.
"For current W2 consumers that are potentially facing Triada issues now, they are highly recommended to downloadthe over-the-air fix through their phone for installation or contact Tecno's after-sales service support for assistance in any questions," the firm told the BBC in a statement.
It added that it is attached "great importance to consumers' data security and product safety".
"Every single software installed on each device runs through a series of rigorous security checks, such as our own security scan platform," it added.
Common problem
At the beginning of the year, security firm Malwarebytes warned that similar pre-installed apps were found on another Chinese Android phone – the UMX U686CL. This handset was offered to low-income families in the US via a government scheme.
And in 2016, researcher Ryan Johnson found that more than 700 million Android smartphones had malware installed.
Google, which developed the Android operating system, is aware of the issue.
In a blog written last year it blamed third-party vendors, used by manufacturers to install features such as face unlock, for pre-installing Triada malware.
It said it had worked with manufacturers to remove the threat from devices.